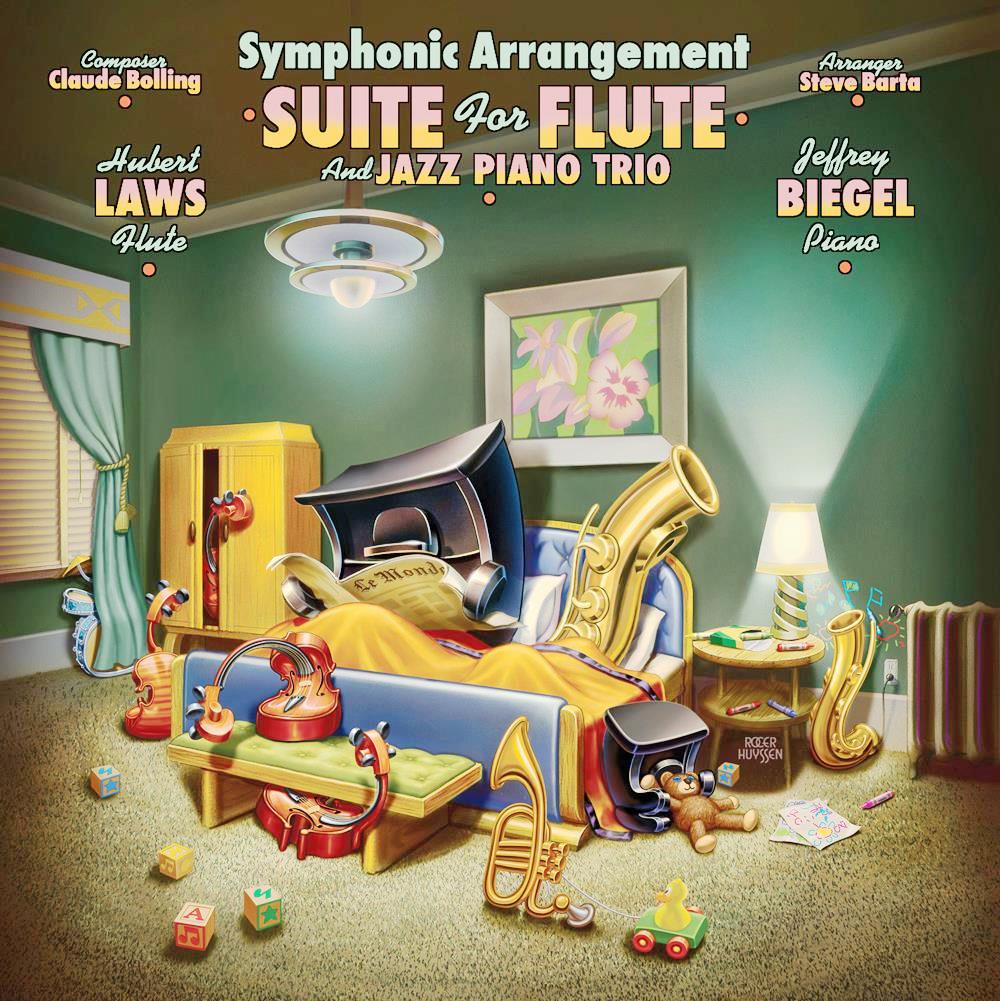 Reviews for "Symphonic Arrangement of Claude Bolling's Suite for Flute and Jazz Piano Trio" - Jeffrey Biegel, Piano - Hubert Laws, Flute - Arranged by Steve Barta (2015)

Available at:

Amazon.com (CD) and Amazon (Vinyl LP)
* Steve Barta revisits 'Suite For Flute And Jazz Piano' with jazz on top
An entire album devoted to the flute? Another marriage of jazz and classical, with classical taking over? In lesser hands, this could be a hard sell – even for jazz enthusiasts.

But driving the new, seven-track album is world-renowned flutist Hubert Laws, the name on every jazz musician's lips when it comes to that non-traditional instrument. Laws and pianist Jeffrey Biegel spill a lovely, lilting difference in the jazz-classical reenactment of Claude Bolling's classic, 1975 Suite For Flute And Jazz Piano.

When pianist Claude Bolling recorded the Suite back then, audiences the world over embraced the jazz-classical mix, while purists held back, unsure of the authenticity and even the chops of putting these two strong styles of music together in the first place. Purists worried that the desegregation of jazz and classical music might dilute the strength of impact in such a softened fusion. Unfortunately, jazz tends to disappear in the transfusion. Regular, run of the mill listeners off the street begged to differ.

Bolling, flutist Jean-Pierre Rampal, bassist Max Hediguer, and drummer Marcel Sabiani nevertheless broke into the mainstream culture with this jazz-classical, orchestral fusion, which also mingled quite well with the pop crowd. Their labor of love landed on the Billboard charts and stayed there for a record-breaking 530 weeks. Most of all, the musicians on the album broke sacred ground by bleeding into jazz and classical music, and made it more than okay for others to start doing the same.

For the latest installment, Symphonic Arrangement: Suite For Flute And Jazz Piano Trio, composer and arranger Steve Barta updated Bolling's original repertoire with a jazz quartet, string quartet, and orchestra in mind, featuring today's finest musicians capable of the job of infusing an even larger depth of focus and broader influence. Bolling gave his okay, provided Barta leave the score alone, and is said to have been more than pleased with the result.

With Bolling's score intact, Barta provided his updated arrangements for the two featured artists, flutist Hubert Laws and pianist Jeffrey Biegel, as a significant part of the jazz quartet. The choice could not have been more inspired.

Barta and pianist Biegel first came to the same conclusion over dinner before a concert in 2008. The two got together in Barta's home, Biegel going over his orchestra repertoire for the concert when they realized a common thread in a discussion of jazz and classical music, "and naturally Bolling's Suite came up in the conversation. It was like our thoughts were tracking the very same thing at the same time," Barta told Pierre Fournier, who provided the liner notes. "I had been considering doing an arrangement of the Suite for orchestra for quite some time, and Jeff had been holding the same thought in his mind – thinking of how an arrangement for this with orchestra might come together. Over a tasty pasta and a fair red vino, the idea to arrange this for orchestra simply clicked."

Brazilian drummer/co-producer Michael Shapiro and bassist Mike Valerio completed the jazz quartet. Valerio also served as a bassist for the orchestra. "Hubert is the rare person who has the capacity to walk in both the classical and jazz worlds," Barta continued. "Jeff's interpretation of Bolling's piece is masterful.... I can't imagine a better group of four people for the jazz quartet."

Holding the two disparate worlds together is a combination of Biegel on piano and Laws on flute. They build bridges through an innate appreciation of melody inherent in any of the pieces, long or short. Two melodic instrumentalists could easily distract and clash. Yet Biegel and Laws often tag-team, taking turns building on snippets to flesh out both sweeping mood and an essential melodic line, essential to attracting and holding onto the listenership of that mainstream world.

On "Versatile," the entire orchestra keeps company with a bulbous melodic line in certain dramatic parts, never forgetting the flute keeping the whole mass functioning toward an extremist dream that flutters and floats after a cool spring breeze shakes daffodil petals into the sky.

"Irlandaise" stands out from the seven pieces, melodically. The warm melody catches on familiar past refrains from other songs, a shadow of Gregory Porter's "Be Good (Lion's Song)," maybe. The way the musicians fragrantly touch on it is as if a young girl hears that same melodic strain and goes off traipsing into the woods, foraging for mushrooms and adventures with fairies.

"Veloce" spills out in a gush, reminiscent of those Olympic ice dancing competitions so many athletes set their music to, as it cuts into the velvety, soundtrack atmosphere in defrosting rivulets. The entire orchestra is again here for this finale, the shortest of the bunch at three minutes, 47 seconds. Laws, the flutist, takes center stage again as Biegel, the pianist, swirls around and around the main melodic line that seems to drift higher and higher before the two meet in the middle in a unified tribute, and a fitting end you never want to hear coming.

Arranger and recording artist Steve Barta intended for his version of Suite For Flute And Jazz Piano to showcase the jazz a little more than the original. "When I first heard the Suite in 1975, I fell in love with the writing and with the arrangement. The recording took some pretty hard hits from critics on both sides – jazz and classical. But it sold millions of copies! The writing was brilliant, the playing was executed very nicely. But for me, the feel of it didn't have much to do with jazz," Barta told Sean Martinfield in the Huffington Post Aug. 12, 2015. "I knew that at some point in my life I would touch this piece again. I felt it needed to be recorded by jazz players and with a blend of classical. This ensemble was very well thought out. Jeff Biegel on piano was simply the perfect choice. He has the technical savvy, the interpretive skills, and on top of that – he is a super nice guy. He knows how to focus all that energy. And flautist Hubert Laws has that ability to pull out more of a moment when it needs a jazz interpretation – where I felt that it really needed it. Now the piece sounds like it should. On top of that, I really wanted to change the timbre and the width of it by adding orchestra and string quartet. So, it became quite a production. I couldn't be happier with the way the recording turned out. Claude Bolling loves it as well – which, of course, I was a little nervous about."

Any doubt that this is a jazz recording with classical notes goes out the window at first glance, with the opening number, "Baroque & Blue." "Baroque & Blue" is six minutes and five seconds of piano jazz shuffling and romping through honky tonk, bluesy crescendo – with a slight, edgy tonal disconnect that threatens to turn the whole song apart four minutes and eight seconds in. In other words, jazz at last.

By Carol Banks Weber - AXS.com - 24 Feb 2016
---
* ConcertoNet.com on "Symphonic Arrangement of Claude Bolling's Suite for Flute and Jazz Piano Trio"
Historic commemorations have a way of honoring time while proving inspirational avenues of outreach. Look no further, for the treasured Claude Bolling composition, Suite for Flute and Jazz Piano, has a new musical stance thanks to visionary Steve Barta. Back in 1975 the original release created a sensational buzz due to its melding of classical and jazz genres into a transformational alchemy. Further, Mr. Barta's new inspirational trajectories spawned a wide range of options for eagerly awaiting musicians: jazz quartet, string quartet, orchestra, and, in this case, a Symphonic Arrangement. The 40th year anniversary celebrating Mr. Bolling's iconic crossover invention features a crème de la crème core that invigorates the score with a brightly washed appeal.

So, what's new with this new vision? Those familiar with the Bolling version will discern the polite and colorful divestiture doesn't prominently present itself until after the first two movements. That said, however, the opening "Baroque and Blue"" has a more emphatic tempo which allows Hubert Laws to funnel notes into rarified delight while the ensuing "Sentimentale" possesses greater momentum.

A digress begins inside the snappy "Javanaise", a rhythmic backdraft reminder of Brubeck's Take Five, whereby Barta chooses to step up the pacing with more rhythmic accentuation. This enables richer and more three-dimensional landscaping. Here, we discover a more fix contemporain, permeating Bolling lines through use of xylophone and brass infections. These key instrumental values shine throughout the remainder of the movement. Jeffrey Biegel's impish, improvisational-like skills flow freely and mightily and float endlessly. The Laws/Biegel tête à tête is catchy and effervescent.

Hubert Laws opens the "Fugace" with sprite-like flute-flickers only to be occasionally outdone with exchanges by Biegel's Erroll Garner-like carefree essences. Michael Shapiro grounds the piece with his insistent percussion that are pressed upon moderately by an influx of strings, bass and deepened orchestra. The approach is conservative, yet stately. Steve Barta's rendition is superlative.

The earthy bass of Mike Valerio sets the tone and acts as the anchor inside the "Irlandaise." Jeffrey Biegel is a pianist who dares to cross his tradition-bound classical venue. The end result is a virtuosic interpretation that's bluesy and a bit folksy. There's even a bit of a restraining 'jiggish' dialogue which ensues with Laws. Though nothing can compare to the Rampal/Bolling combination, this is one interpretation that will agree with all parties considered.

An astonishingly complex yet fruitful display unveils itself in the penultimate "Versatile", yet this section has an impressive departure from the Jean-Pierre Rampal original bass flute: the Rampal resultant was moodier and heavier. When practicing the piece, Mr. Laws hesitated: his preference was to opt for lighter fare. This is where artistic license makes for significant allowances and freedom. In this case, the choice was apropos. Additionally, Biegel enhances the keyboard with fioratura flouncing in a way that's like none other. Mr. Barta's decision to acquiesce to Mr. Laws' wishes were prudent. Overall, this version appears higher, shinier and more lucid, utilizing subtle harmonic formulations.

Liner notes inside the CD are concise, yet brief. Traditionally-tethered, Roger Huyssen's delightfully cartoonish artwork expands upon the album's original cover. Now Mr. Huyssen creatively opens up the doors to the bedroom's symphony of friends... whimsically provoking.

Indeed, Marseilles-born flautist Jean-Pierre Rampal is a tough act to follow. The master of trendy flute perspectives, Rampal, nonetheless, opened new gateways of expression. Steve Barta's arrangements and acoustical knowledge are glowing and enchanting. A 'must-listen' for crossover enthusiasts.
By Christie Grimstad - ConcertoNet.com - 19 July 2015


* CD Hotlist on "Symphonic Arrangement of Claude Bolling's Suite for Flute and Jazz Piano Trio"
Remember this? One of the first (if not the first) jazz-classical fusion pieces to achieve mainstream popularity, this suite for flute and piano trio combined classical forms with jazz rhythms to create a sensation in easy-listening music back in the 1970s. While previous experimenters in this general vein (notably the late Gunther Schuller) had made music that was serious and professorial, not to say forbidding, Bolling's music was pure whipped cream, and people licked it up. This new version is presented in an orchestral arrangement by pianist Steve Barta and features the great jazz flautist Hubert Laws along with a string quartet; the piano trio is still there, and behind both small combos is a lush drapery of strings, brass, and winds, all of them tastefully organized (and mixed) in such a way as to keep the focus on the flute, piano, bass, and drums, but providing lots of color and texture behind them. The music is still whipped cream, but now it's as if the whipped cream is floating on top of a big cup of rich hot chocolate. Recommended.
* Claude Bolling applauds facelift on his classic suite with Hubert Laws and Jeffrey Biegel
"A true and modern arrangement!" is how composer Claude Bolling refers to Steve Barta's new "Symphonic Arrangement" of his classic "Suite for Flute & Jazz Piano". Helping to coin the term, 'Crossover' in music, Bolling's 1975 recording enjoyed a 530-week ride on the Billboard charts to become a standard in the jazz and classical worlds. With Mr. Bolling's approval, American Composer/Arranger Steve Barta set out to re-arrange and reintroduce this masterpiece to the world once again-but with quite a different approach. Mr. Barta has taken the original work and arranged this for jazz quartet, string quartet and orchestra. Re-titled, Symphonic Arrangement: Suite for Flute and Jazz Piano, you will hear Steve Barta's interpretation of Bolling's Suite in a whole new light, as he brings together the best soloists in the jazz and classical worlds to present his new interpretation.

For Steve Barta, the correct personnel to interpret the Suite was essential. Master flutist Hubert Laws was simply the only choice for Barta: "Hubert is the rare person who has the capacity to walk in both the classical and jazz worlds," states Barta. Jeffrey Biegel is a prodigy talent that is so appealing, not only because of his brilliant abilities at the piano, but he also likes to take musical risks-step out into new areas of music and further his abilities as an artist. Barta says, "Jeff's interpretation of Bolling's piece is masterful." Brazilian drummer and co-producer Michael Shapiro brought to the session a payment of homage to the original arrangement, while at the same time putting his own stamp on this fusion of classical and jazz as only Michael Shapiro can do. Bassist Mike Valerio is yet another of the ensemble who holds the capacity to walk in the worlds of classical and jazz. Working with both orchestras and jazz ensembles, Valerio has his own sound and his own style, which fit perfectly into the jazz quartet. "I can't imagine a better group of four people for the jazz quartet," says Steve Barta.

In this new recording to be released on July 15, Steve Barta masterfully weaves string quartet, jazz quartet and orchestra into what Claude Bolling himself calls, "a modern and true arrangement", giving Barta "A thousand bravos!" It will be released on vinyl LP, CD and digital format on July 15 on iTunes, Amazon, CD Baby & SteveBartaMusic.com.